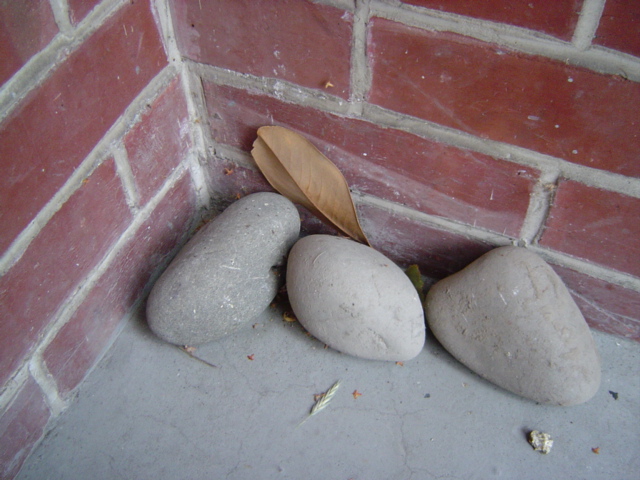 In a dusty corner of our porch are three large stones, one for each cat buried in our backyard. Our section sits right on top of one of the gravel banks that criss-cross the Canterbury plains, left over from the Waimakariri's meanderings, and the reason our suburb got off so lightly in the earthquakes. It's also the reason why digging a hole in our garden is hard work – go down past about 10 cm of topsoil and you start hitting river gravel. So digging a grave for a cat results in a pile of stones. But the weird thing is, from each cat's grave there's been one really big stone, twice the size of the the next biggest. Ok, I know about distribution and probabilities, and that smaller stones are much more common than bigger ones, so on average we probably would find one large stone per hole. But finding exactly one always seems like it must be a special stone, somehow – or at least, that's how I've chosen to interpret it each time.
So over the last few years the stones have collected on the porch, unmarked memorials to our friends. Nobody else would ever know that it's anything but a pile of rocks. But I know, and I think of them as their farewell gifts, keepsakes that bring to mind crazy Ming, timid Saffy, and placid George.
---
Thanks everyone for your kind thoughts and messages. It's weird getting used to not having a cat in the house – I still keep checking the door to see if George wants in, or seeing dark shapes out of the corner of my eye and expecting it to be him, but it's only a bag or a cushion.
We're contemplating the idea of another cat, or maybe a couple of kittens. It's still kitten season, so the SPCA and Cat Rescue have plenty looking for homes. We might take a trip out there next weekend and see if any little furry bundles catch our eye. The house is too quiet without a cat in it, and MrPloppy especially, being home most of the day, is missing having a cat on his lap trying to "help" him use the computer.
So watch this space.
---
Currently reading:
Real books:
Black Oxen by Elizabeth Knox (yes, still – I just can't get into it)
Possible and Probable Languages: A Generative Perspective on Linguistic Typology by Frederick J Newmeyer
E-book:
A Cold Day for Murder by Dana Stabenow
Audiobook:
Great Expectations by Charles Dickens