From my travel journal: Monday 26 March, 6.30 pm: Cardigan, Wales
The rest of the trip over went smoothly.  I slept on and off most of the way from Abu Dhabi to London, but was still pretty tired by the time we reached Heathrow.  Then I had a 4-hour wait for the bus (which felt even longer, because I was too tired to read, so spent most of it wandering the terminal aimlessly trying to stay awake).  When I booked the tickets I'd had a choice of 8.30 am or 11.30, and decided to go for the later one in case I was delayed getting through customs.  As it turned out, customs didn't take long at all (even though the immigration officer gave me the third degree about why I was in the UK, and where I was staying (he seemed very suspicious when I said I was staying with my in-laws – he wanted to know why MrPloppy wasn't visiting too, and didn't seem to believe anyone would visit their in-laws by choice (I wonder if he doesn't get on well with his?))) so I could have easily caught the earlier bus after all.
The bus took me to Swansea, where I caught another bus to Carmarthen, and the out-laws met me there and drove me the final 25 miles to Cardigan.  It was early evening by the time we got here, and by then I was so tired I only just stayed awake through dinner, then went to bed and slept for 12 hours.  After that long sleep I was feeling much better this morning, especially after a shower and a brisk walk round the block to stretch some of the stiffness out.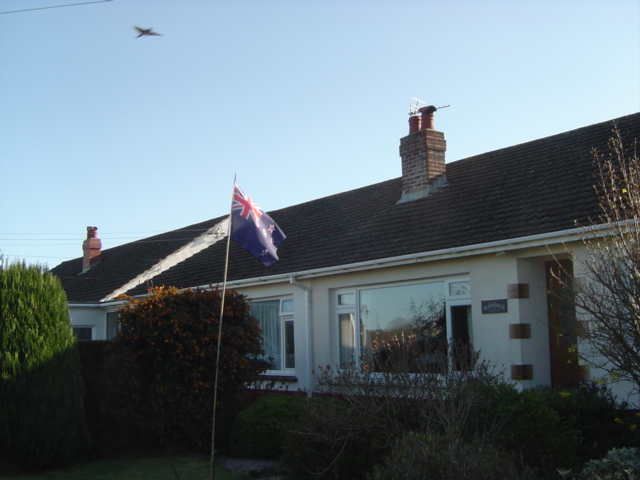 The out-laws took me into Cardigan (they live in a tiny village just outside the town), and the first thing I spotted was a charity shop with a bin of books for 10p each.  Needless to say, I quickly stocked up!
We had lunch in a lovely little pub on the riverfront, then wandered around the town a bit longer.
With a pile of books to register, I spent the afternoon sitting at the computer (good thing I brought plenty of labels with me!)  So I'm all ready now for our big trip.
Lytteltonwitch mentioned on the bookcrossing forums that she was planning to spend the night in Poppit Sands, across the bay from Cardigan.  When I told Father-out-law this, he drove me out to the cliffs where we could see it from – he even pointed out exactly which house on the distant hill was the YHA 🙂