Well, this is all new and not-quite-shiny-yet, isn't it? I'm not sure whether I want to dive into playing with css and theme customisation, or if I should just bow to the inevitability that I'm not likely to keep up sort of any regular posting anyway, so the more sensible path would be to just pick a default theme I don't hate and not invest hours in making everything perfect.
The trouble is, I actually know enough about WordPress to be dangerous – I've built a few highly-customised sites for work, so it's tempting to throw everything I've learnt at this one. On the other hand, at work I'm getting paid to spend hours making the drop-down menus exactly the right shade of blue (actually, that particular project was a bit of a nightmare, so maybe not the best example) – at home I already have way too many demands on my time, and my creative energies. But maybe if this place was prettier, I'd want to spend more time writing in it?
Anyway, we'll see. For now, it'll be enough to just get a post up, and maybe update a few things here and there… (yeah, I'm going to end up making this way more complicated than it needs to be, aren't I?)
Maybe a good place to start would be what I'm working on at the moment. There will of course be a video in due course detailing the full design process, but I don't think it's too much of a spoiler to show you an in-progress photo 🙂 (especially as there's likely to only be a couple of people read this post anyway)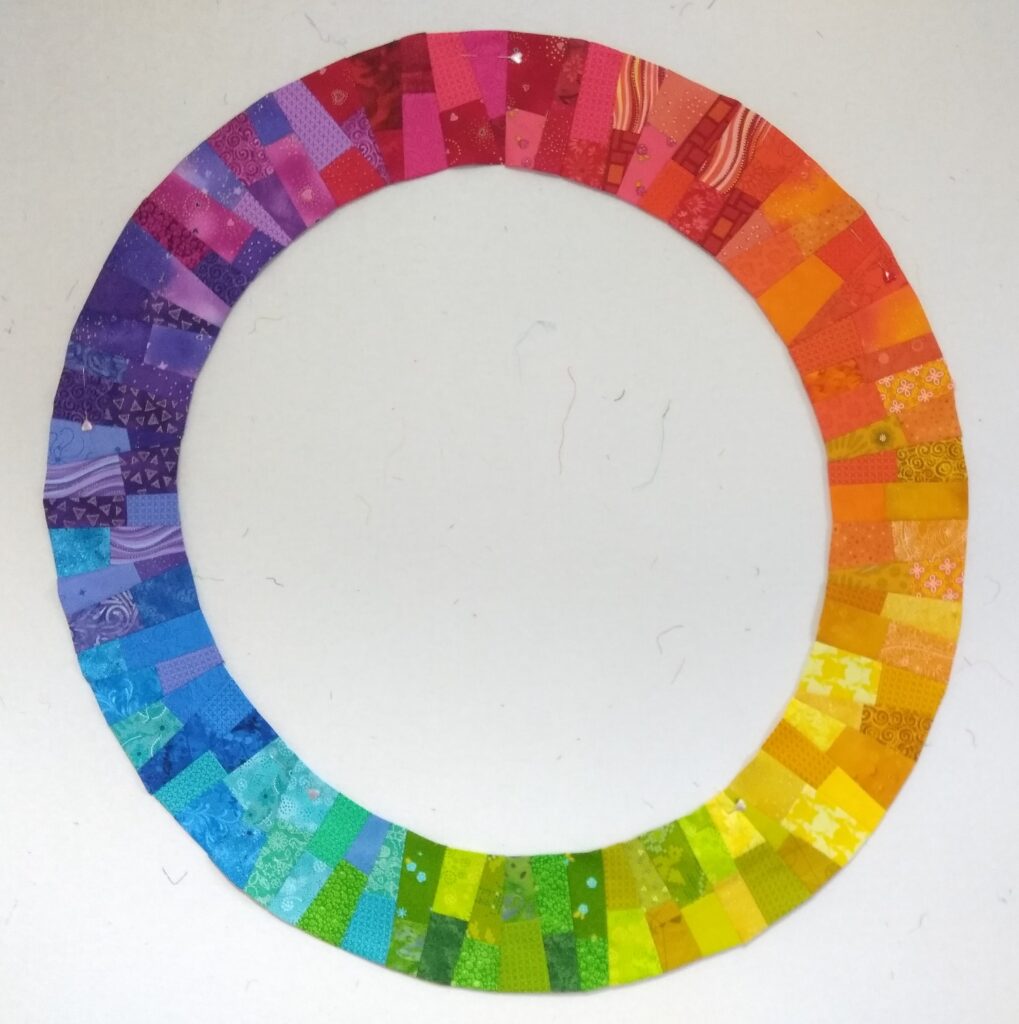 This is the beginning of a wall-hanging I've been commissioned (officially I still don't do commissions, but this is a special case) to make for the new "Rainbow Room" on campus. The circle is (hopefully!) going to look a lot more circular once I actually attach it to the background (which I haven't totally designed yet – I think I know what I want to do, but I'm still working out the exact details. In the meantime, it's just pinned on my design wall.
The overall design is supposed to be reminiscent of the logo for Q-Canterbury, the student LGBTQIA+ group. Their logo is a circle of rainbow ribbon enclosing hands that are making a heart shape. So after consulting with the club president, I sketched out a rainbow ring around a heart (not made out of hands – that would be way too complicated (and beyond my drawing skills!), plus I don't want to make a direct copy of their logo, I just want something that echoes it a bit).
The ring itself is the most complicated bit (especially because of course I had to make it scrappy and interesting!) – it's taken me a couple of weekends to get it to this stage (good thing I don't have a deadline on this quilt!). So in theory it should be smooth sailing from here, but I'm sure I'll find a way of over-complicating it some more.
I may or may not keep you posted on progress. That would involve me keeping my blog up to date though, so don't hold your breath…